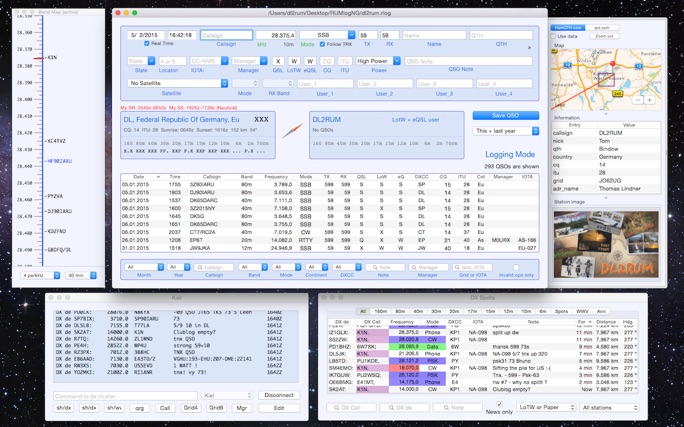 So there are many logging programs for the Mac out there. There is Aether, HamLog, JLog, KLog, RUMlogNG, SCR-Log, SkookumLogger, YeaLogger and of course there is MacLoggerDX, the software i was using up until now. Up until now? Why? Well, i don't want to toss out $95 for a logger. It's just way more money than what i want to spend on a software when there are many options out there that provide similar or even better functionality.
My main reason to stay with MLDX in the past was because it has a very handy voice keyer, something none of the other softwares have. It is very convenient to just press the mouse or a key and the computer makes the radio shout your callsign over the air. Specially if you have conditions like me this feature saves you a lot of calling the same thing over and over with other people in the house looking at you like you were silly.
So if MLDX has this feature, why not stay with it? Well, because of the price, but also because MLDX "calls home". And i don't like software that "calls home". If its for a valid reason like to see if there are updates, then yes, although the Apple AppStore also takes care of that. Ever noticed that MLDX is not on the AppStore? But if it's just to control me then i don't want this to happen. I got around that for as long as i used MLDX by just pointing the hosts MLDX is calling for in the /etc/hosts file to 127.0.0.1 but then MLDX also started sending emails to "phone home", behind my back. My Mac was sending out emails without me knowing it. That's just too much.
Anyway, long story short, i found out that there is actually a piece of software that has a phone keyer, RumLogNG. It's a bit hidden in the CW menu, but in the Phone preferences there is actually an option to send audio files. Audio files need to be dropped in a directory (which is not automatically created, btw) and then show up in this menu.
Then, from the CW menu, you can select a menu option or, if the main log window is active,which it is most of the time, you can just press the button you assigned to the audio file. Actually you can record many more audio files and assign them to keys if you wanted to.
RumlogNG of course takes a bit getting used to, but what i noticed is that it's really a piece of software written by a HAM for HAMs. Tom has a forum and a Facebook page dedicated to his software and is a very good listener to enhancement or support requests.
For the moment i will go for RumLogNG. I am now reading the manual because i think, on the contrary to MLDX btw, that there is much more under the covers than what you would initially think.
To be continued, but at least i am not being watched over my shoulder and i'm not sending mails without knowing.